curated by Bella Kerr & Amanda Roderick for Fringe Arts Bath 2022
"Society cares about the individual only insofar as he is profitable. The young know this. Their anxiety as they enter upon social life matches the anguish of the old as they are excluded from it".

Simone de Beauvoir, 1972
In Simone de Beauvoir's 1972 examination of old age, The Coming of Age, she asks what do the words elderly, old, and aged really mean? How are they used by society, and how is this a reflection of society's values and priorities?
The phrase 'coming of age' itself refers to a transition from childhood to adulthood and conjures up rites of passage, graduating children and teenagers into adulthood. Taking the title of this book as inspiration allows us to think of youth and old age, the journey to adulthood, and cross-generational views. For this group exhibition, seventeen artists speculate on the issues through a range of media; the work is celebratory, playful, poignant, emphatically address socio-political issues, or are drawn from personal experience, history, literature and myth. Rather than focusing only on practical, physical issues, this exhibition examines the existential, philosophical problem of how we are in the world at any age
In The Coming of Age, Simone de Beauvoir sought greater understanding of our perception of elders, guiding us through a study that considered a thousand years and a variety of nations and cultures to provide a clear picture of the separation that the old must suffer and endure in many communities. For The Coming of Age 2022, artistic practice centres on self-actualization and rituals of becoming. It involves an intuitive exploration of how individuals simultaneously grow in solitude and in communion with others.**
The ages of artists in this exhibition represent almost every decade – from age twenty to seventy-six. All invite 'introspective processes of getting to know oneself in relationship to our environment and in relation to others'.** It includes work which is interdisciplinary, site-responsive and collaborative; video and photography, installation and performance; drawing, textiles and ceramics.
This project has sought to present a diverse selection of artists bringing them together to examine what we might make and do (better) when we have knowledge of each other's lives and skills, and how understanding can be generated through these relationships to inform a wider audience.

References
---
* Simone de Beauvoir The Coming of Age, G. P. Putnams' Sons (London, 1972)
** Coming of Age, a Sakhile&Me exhibition featuring Zana Masombuka & Lloyd Foster (Frankfurt, August 2021). Online only: ​​https://www.sakhileandme.com/exhibitions/coming-of-age-2021.htm
---
Further information:

https://www.roderickandjones.com/coa

Download digital catalogue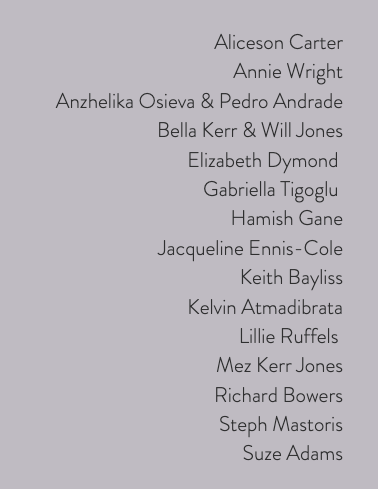 ---
The Coming of Age is dedicated to the memory of one of it exhibitors, Will Jones (1991-2022), who died suddenly on 11th February 2022