Timetable: Keeper(s) Exhibition | April & May 2013
Week One
Bella Kerr – Readings
Opening event: A Day of Quiet Reading
From quiet reading to reading aloud visitors were encouraged come and read – quietly or to others, to bring a book, or find a text in the gallery.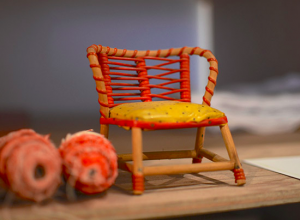 Friends Literary Sharing
The friends of Mission Gallery were invited to share a favourite piece of writing, anything from poetry to a line from a song or a page from a book.
Week Two
Bella Kerr – Stories: Making Narrative
Objects were arranged in the gallery to invite storytelling. Events included drawing and storytelling workshops for children and Mini View, a tour of Keeper for a younger audience.

Week Three
Kathryn Faulkner – Biblioscriptions
As Keeper 2, Kathryn Faulkner invited dialogue with avid readers and generated personal bibliographies for visitors. Each consultation produced a pinhole camera image and a Book Crossing Event.
Book crossing is the practice of leaving a book in a public place to be picked up and read by others, who then do likewise after they have read the book. The finder identifies the book by registering its unique number at www.bookcrossing.com and so the book can be tracked in its future journeys across the world. Visitors were asked to bring along a good book to release into the wilds of Swansea and help make the whole world a library.
Week Four
Karen Ingham – Table Keeper
Karen Ingham oversaw a consideration of 'Table-ness': the table as symbol of social and vocational interaction; the table as data, the table as keeper of everyday traces and encounters.
Week Five
Bella Kerr – Talks
Bella Kerr transferred the activities of teaching to the gallery, making them visible beyond the confines of the lecture theatre or studio. She offered tutorials to visitors – asking them to bring a sketchbook or a small piece of work.
Events included a poetry writing workshop with Catriona Ryan and talks by Eilish O'Donohoe + Ciara Healy. Eilish O'Donohoe spoke on the Book as Object, Artefact and Container, in an historical context. Ciara Healy presented a discussion of Thin Places, portals and how objects can make us 'thick' or 'thin'.
Week Six
Jane Rendell – Coming to Welsh
In Coming to Welsh Jane Rendell worked as a 'scene-maker', arranging and re-arranging words and objects related to childhood memories of a Welsh Dresser owned by her great aunt. Events included a site-writing workshop and performances by Jane Rendell, Mike Pearson and Sharon Morris.